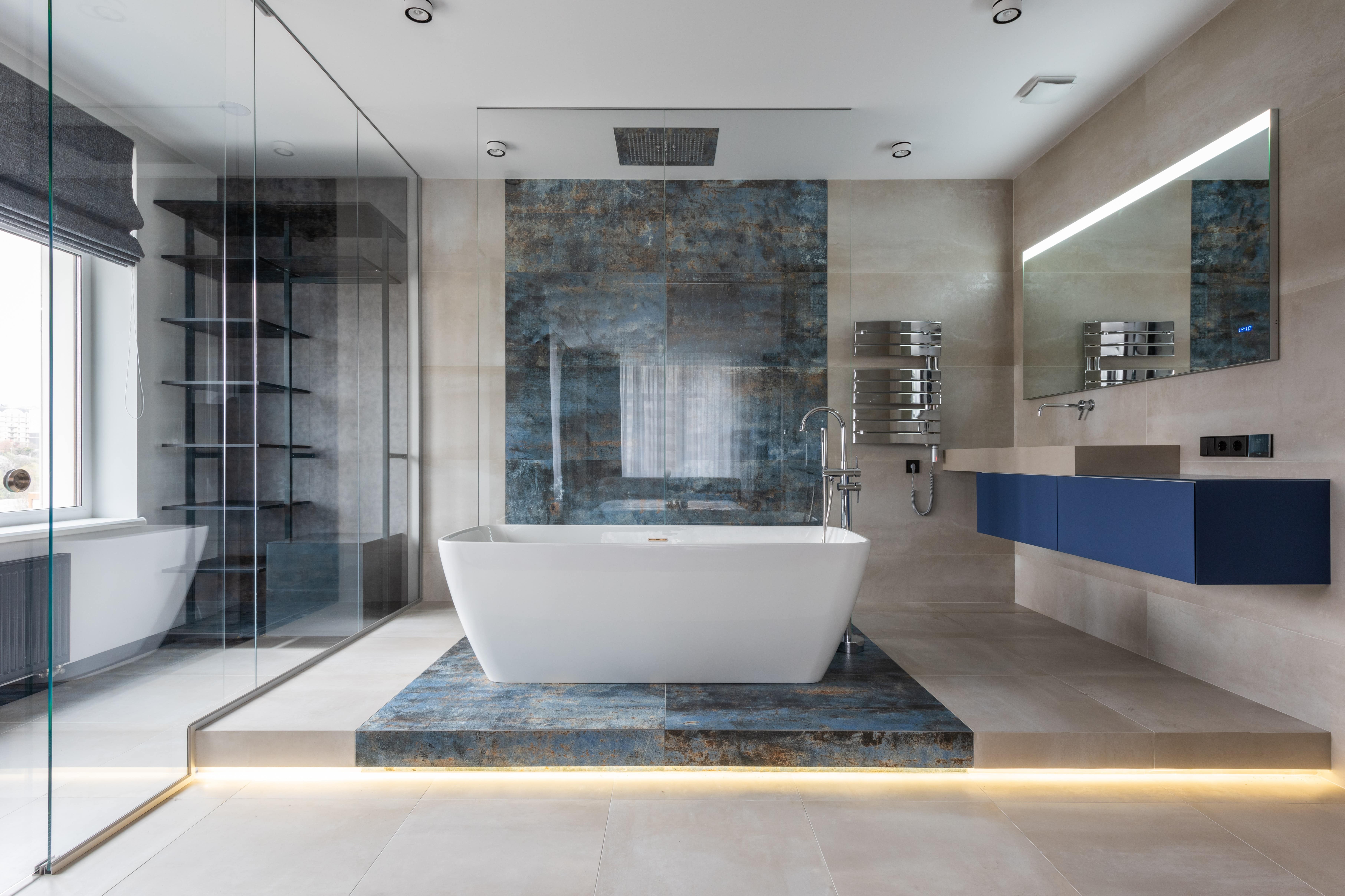 Do your bathrooms look like they belong in the 1970's? Upgrade your home's style and comfort by scheduling services with skilled bath remodelers in North Dighton, MA. Mount Hope Construction Inc. has extensive experience in providing comprehensive bathroom remodeling services throughout the area.
Whether you want to make a single bathroom look more modern and stylish or you'd like to completely redesign every bathroom in your house to be more spacious and comfortable, our experienced contractors are able to create the perfect bathroom to suit your stylistic needs and tastes. Get in touch with us today to schedule remodeling services with our team.
Add Comfort & Value With Bathroom Remodeling
One way to update the look and function of your bathroom without having to knock down walls is to update the plumbing fixtures. Our remodeling professionals are able to help you choose the best fixtures for your bathroom including:
Faucets

Bathtubs

Toilets

Drains

Sinks
Our remodeling experts have extensive experience in remodeling and upgrading every aspect of your bathroom from the fixtures to the flooring and lighting. When you're ready to get started on your home remodeling upgrades, reach out to our friendly staff to discuss your needs.
Contact us today to schedule remodeling services with our team of skilled professionals. We're proud to serve clients in North Dighton, MA, as well as the surrounding areas.
There are not enough good things to say about Mt. Hope Construction! They made sure EVERYTHING was perfect! They completed a bathroom remodel (including changing paint color on the vanity and the mirror without batting an eye). They also replaced our very large deck and front stairs. The team was on time every day, they are exceptional communicators and even worked in VERY COLD temperatures even after we let them know we understand how ridiculously cold it is and we understand if they want to go home. The quality of work is exceptional and every step of the way they far exceeded our expectations! This is the fourth property we have owned and with all the projects we have done over the years, Mt. Hope Construction is hands down the best!
All work was performed on-time and as expected. Mt Hope Construction is very professional and a pleasure to deal with. Everyone remarked that it was one of the neatest roofing jobs they had ever seen. Not a nail or errant shingle in sight. Would recommend them to anyone who asked. Thank you Mt Hope Construction for a job well done!!!
Thank you for your recent work in my home. I was very pleased with your job and my improved home, 100% satisfied.
Thank you so much for all your help and great workmanship. You are truly a great inspiration to all the carpenters. I hope you don't get to busy for us!
Just wanted to wish you and everyone at Mt Hope a merry Christmas and a Happy New Year. I wanted to thank you for all the hard work that you put in making the GATRA terminal and Maintenance Facility better. Mt Hope has become an indispensable asset for me and I look forward to working with you in the coming year.
I am a Real estate agent and a smart home owner. I do my homework well before calling contractors for my home repair needs. I started doing my research from June 2015 and called at least 3 contractors to get some budget friendly estimates. After meeting with Chris and Cory I realized that budget friendly estimates can save one few bucks now but you will end up losing hundreds if the job is not done right. Chris and Cory gave me the price that was very similar to the other Contractors but the value and quality that they mentioned in their estimate is two hundred percent more then other Contractors. I am so glad that I met Chris and Cory. They are a wonderful and friendly people and listened to all my concerns in very welcoming and understanding way. Contracted work is completed now as promised. Now my house looks more gorgeous. Thanks to Chris and Cory. Wish you guys all the Best.
When our old carpenter (who spoiled us by doing not only carpentry but just about every other thing we needed to have done) retired, my wife and I were convinced we'd never find anybody as good. But Chris and Cory proved us wrong. They began with us by accomplishing the 'impossible'. We had an apartment that we wanted to put a dishwasher in. Everyone (including our old carpenter) said it couldn't be done. Chris and Cory did it. That was three years ago and the tenants continue to enjoy [the dishwasher]. Our old carpenter had occasion to see the work and gave it the thumbs-up. That made us feel good. Since then, we've had Chris and Cory do everything for us from roofing to cabinetry, to all kinds of work in between– and we've never been disappointed. Chris and Cory are pleasant, they are knowledgeable, they are industrious: and, their prices are reasonable– and, on top of all this, they do quality work.
Fran and Joe Zilonis, Lakeville
I would recommend Mt. Hope Construction to anyone. They did a great job. Work began when they said it would and was completed on time. They took away all the debris. The price was right and the job and service was excellent. Although they were very busy around the holidays they fit me in before winter really started. Chris and Cory and their crew were very respectful and answered every questions I had. Thank you,